$14.99
Regular price
Sale price
Unit price
per
Sale
Sold out
View full details
DESCRIPTIONS

ABO Ramen - Gluten Free

Not your typical ramen, this one is good for you! 

ABO Ramen has 20 grams of protein and a full serving of vegetables per bowl. Our wheat-free noodles, paired with real fermented miso broth that is seasoned with our award-winning OKAZU condiment offers a guilt-free meal that is high in iron, potassium, and fibre while being lower in sodium, fat and carb than typical instant or restaurant ramen. It's also easy to prepare! Umami yum! 

Cook up a bowl of ABO Ramen at home in under 10 minutes for a nourishing and satisfying meal. Suggested toppings: nori sheets, ramen egg, green onion, bamboo shoots, corn, arugula, sauteed mushrooms, bean sprouts, anything you like!

For an extra burst of umami, try topping ABO Ramen with OKAZU.


ABO Ramen is 

non-GMO

gluten-free (wheat-free)

Free of artificial flavouring

Plant-based

Good for you

Yummy!

Noodles are Made from Lentils

ABO Ramen is NOT

Typical instant or restaurant style ramen

Made using chemicals or animal products to achieve an umami flavour

HEAT LEVEL: MILD

All NATURAL NO MSG


Up-cycled

Broth is made with the by-product of sake brewing.

INGREDIENTS

Ramen Noodles:
Green Lentil Flour, Tapioca Starch, Kale Flour, Spinach Flour, Cauliflower Flour.
Soup Broth:
Organic Miso Paste (Organic Soybeans, Rice, Salt), Sake Lees (Water, Rice, Koji, Yeast), Sunflower Oil, Sesame Oil, Garlic,Tamari Soy Sauce (Non-GMO Soybeans, Salt, Sugar), Organic Cane Sugar, Chili Powder, White Sesame Seeds, Chickpea Flour, Salt.

CONTAINS: SESAME, SOYBEANS. MAY CONTAIN: MUSTARD

All NATURAL NO MSG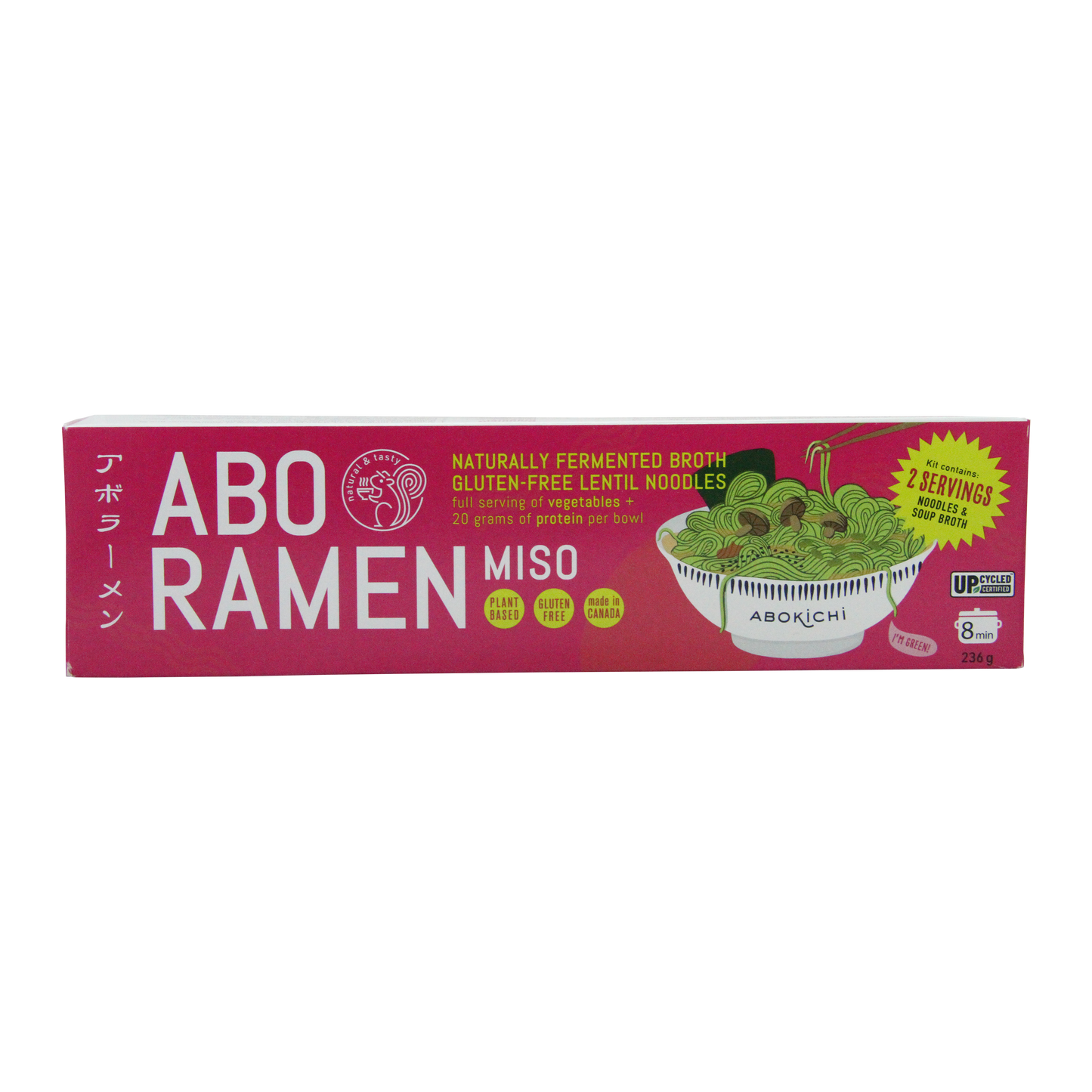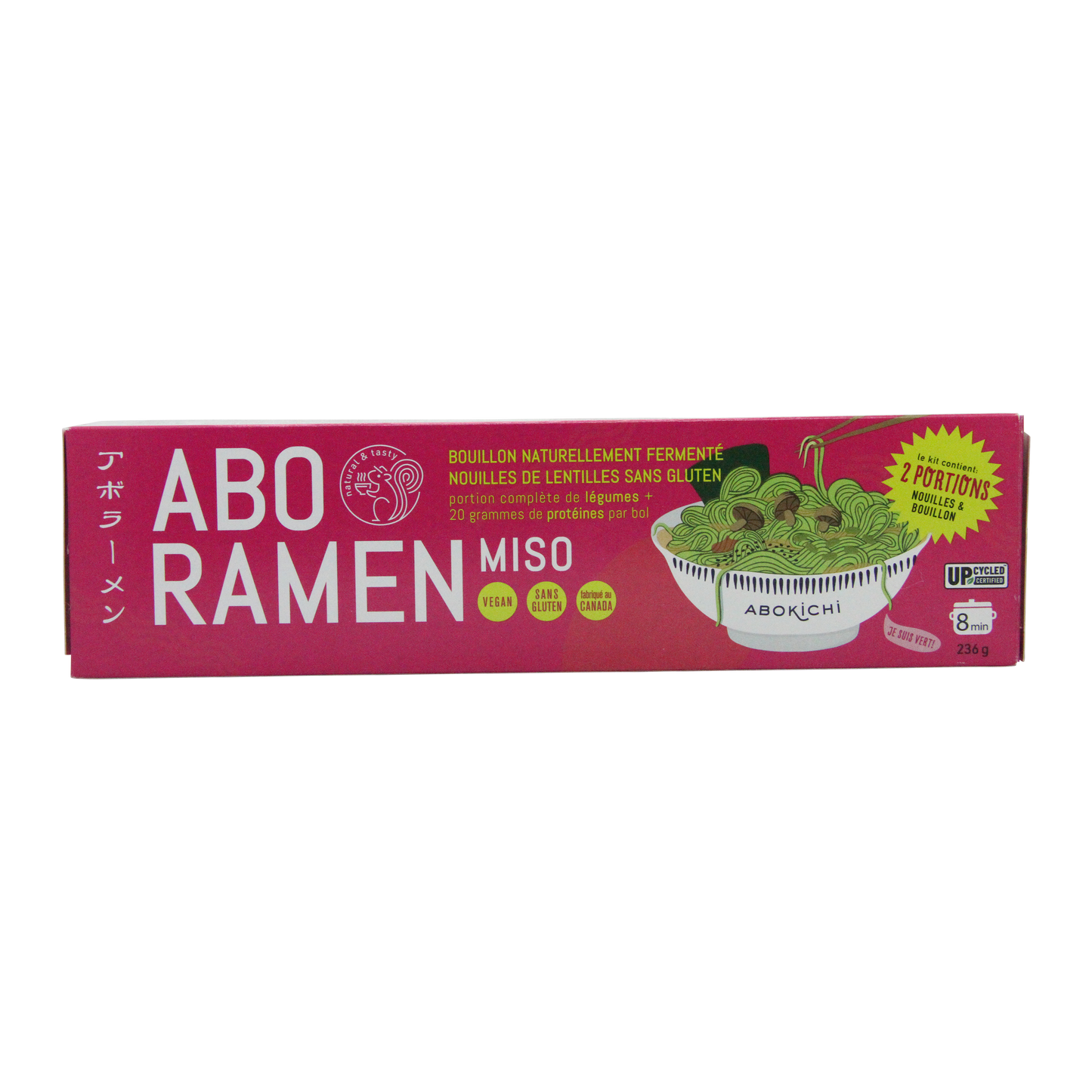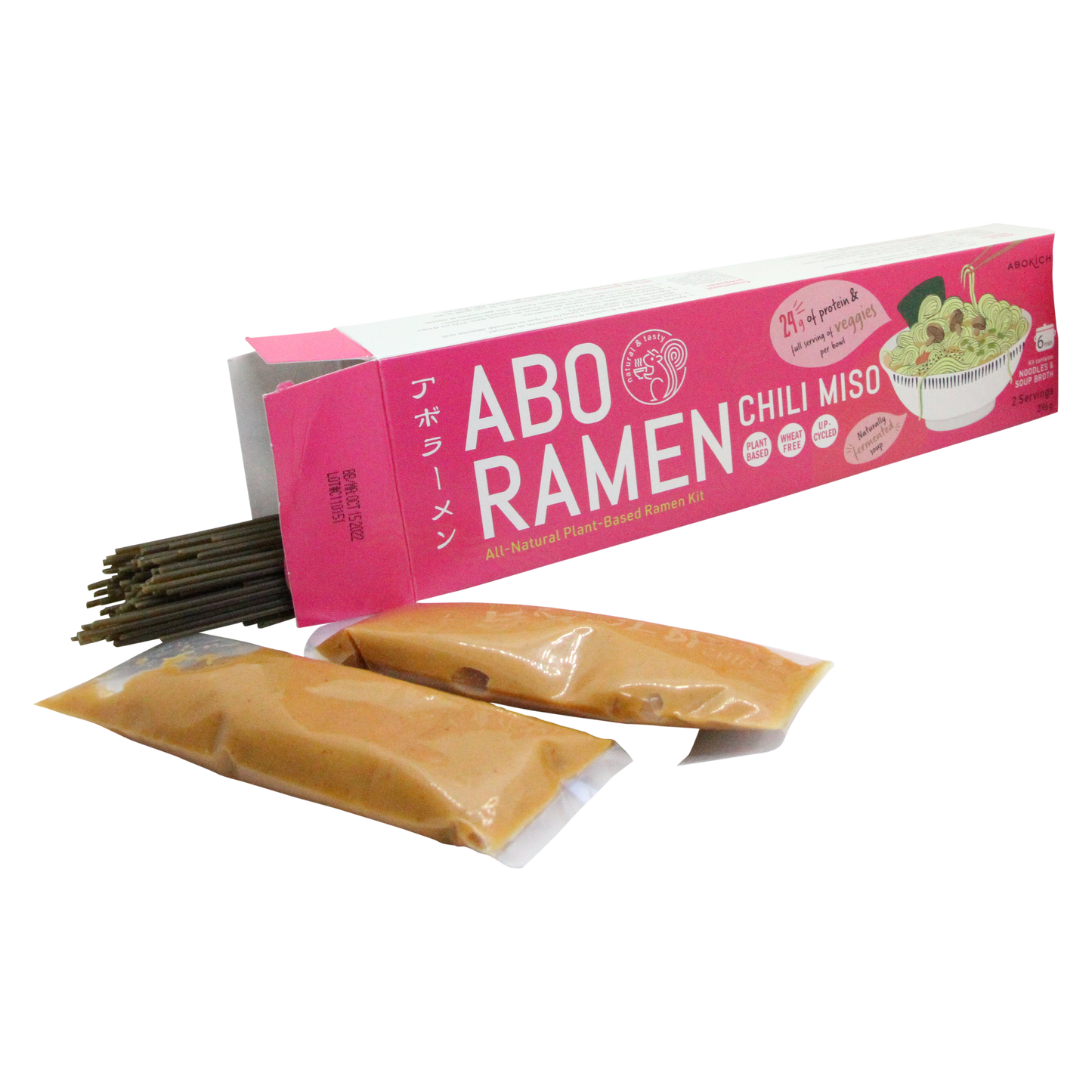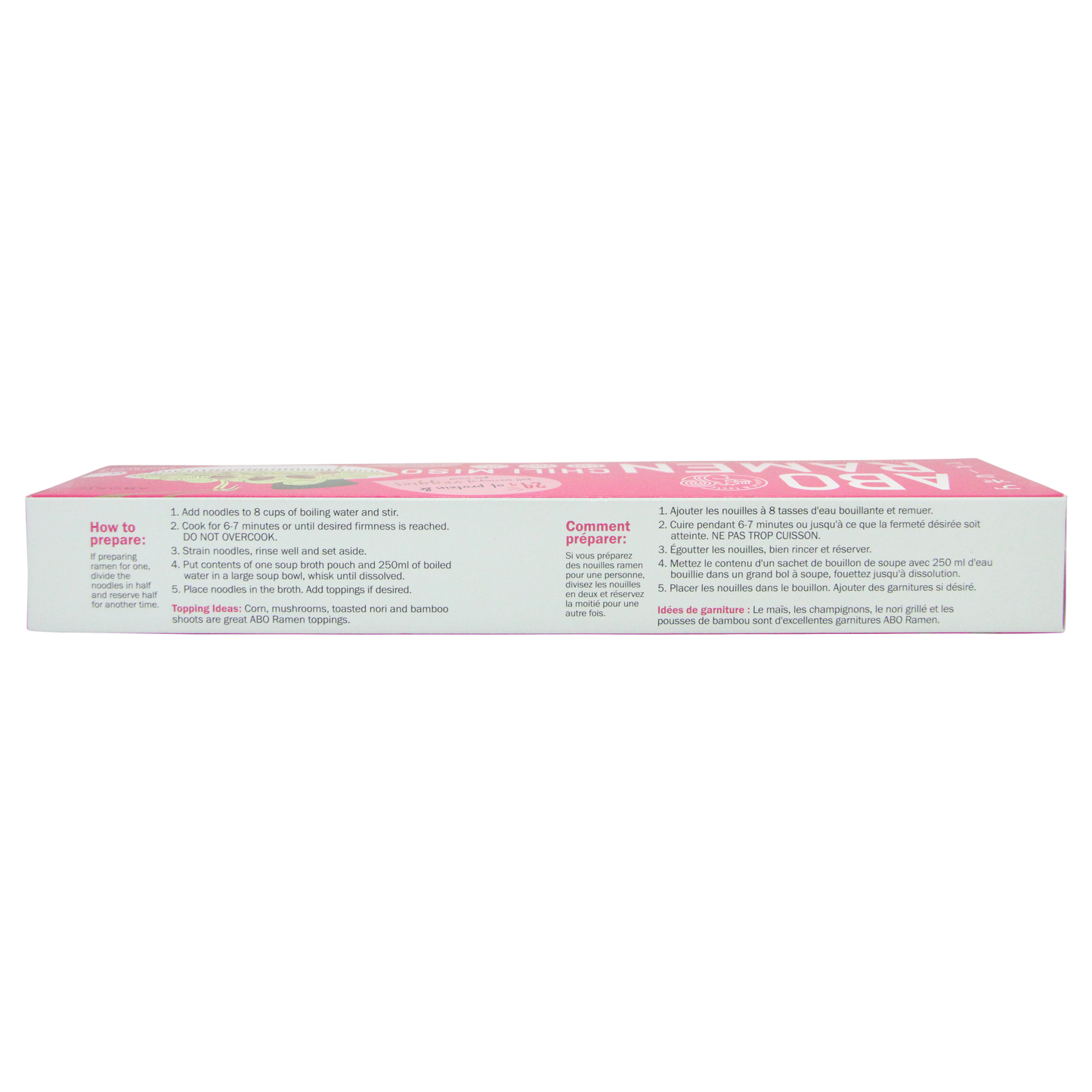 Not bad
I agree with Paula's review. The noodles are decent and it's nice that they are gluten-free but the miso sauce is bland and needs more salt so I added some tamari to give it more flavour.
Really?
I thought that these looked expensive before I bought some. After I tried them I thought that they were ridiculously expensive. I get that they have more food value than regular noodles but at $15 for noodles for a meal for two vs. under a dollar for the other products, it's hard to understand how you folks sell any of them. I love the Miso even at its price but these are just too expensive to justify their purchase.
So so
I was torn about my rating. The noodles are an amazing texture for the type of ingredients used. They are not low carb though. These lost points with me because the portion was very small for the price, and I found the flavor bland. I had to add a lot of extra seasoning to it. I'm not sure if I'd buy again. Maybe if they had just the noodles for sale.
Delicious even tho low sodium and GF!
Beautiful umami flavor. Delicious, especially considering it is so low in sodium (compared to other ramen soups I've had in the past), flavorful, and gluten free!! It is a bit expensive, but it can't be compared to store bought instant ramen soups…this is in another class all together. I'm super sad it is sold out right now. I'll keep checking back.